REVISIONIST HISTORY®

________________________________________

We strive to love as Jesus did

Updated Friday, January 21, 2022

Important anti-Nazi resources online

Get bulletins by e-mail via The Hoffman Wire: Send an e-mail to: hoffman[at]revisionisthistory.org with "Subscribe Hoffman Wire" in the header
_______________________________


Follow historian Michael Hoffman on Twitter
_______________________________

Archive of more than 100 articles by Michael Hoffman published online beginning in 1996
________________________________________

VISIT OUR ONLINE STORE

100% Safe and Secure Ordering






Michael Hoffman's books are also available here and here, as well as at this link
________________________________________

Now available The Occult Renaissance Church of Rome
Softcover. 723 pages. 42 rare illustrations, many in color
Learn more about this extraordinary history





We thank God that the congregants at the north Texas synagogue are safe and their ordeal has ended. Houses of worship, both Judaic and Christian, have come under increasing attack in recent years. This horrific trend should be condemned unequivocally by all people of good will.

Michael Hoffman's
New Year's Message and Progress Report
Be sure to read the debate in the "Comments" section
________________

Error has no Rights? Michael on the absolute right to be wrong
________________

Two Michael Hoffman Videos Streaming Now
Offered free of charge as a public service and made possible by donors to our Truth Mission.

1. Hitler's 1935 Talmud: examining the enigma of the book-banning dictator permitting the publication of the Goldschmidt Talmud

2. Michael Hoffman talks about the Ecclesiastical History of Usury
_______________________

Revisionist History Newsletter® no. 117: December

The Pirate Queen's Slave Traders
Queen Elizabeth I and the Conjuring of the British Empire

Contents and Ordering details here (scroll down the page)

____________________________________


New book!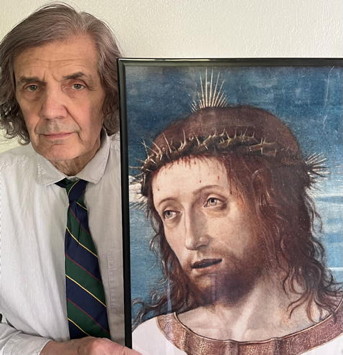 Twilight Language, Michael Hoffman's book on occult neurolinguistic programming and the alchemical processing of humanity, can be ordered now
Download the sales flyer
Order here:
www.revisionisthistory.org/page7/page7.html

__________________________________________________

Michael Hoffman's Speech in Montana — DVD is now available!
_______________________________


King-Kill/33 is here

_______________________

TETRAGRAMMATON MAGIC
The Suppression of Yahweh's Name in Christendom
And the Use of Yahweh's Name in the Ceremonial Sorcery of the Western Secret Societies
_________________________

The Real Neo-Nazis
They use abortion to exterminate the disabled

___________________________________________

Watch Michael Hoffman's Lectures and Interviews online
________________________________

Index to Michael's Usury in Christendom
__________________________________________

"It should be borne in mind that the first step taken by any potential authoritarian or dictatorial regime is to gain control of communications, particularly the delivery of news...one-party control of the press and media is a threat to a viable democracy." Hon. Laurence Silberman, Washington D.C. Circuit Judge for the Court of Appeals
_______________________________

Refuting a scurrilous lie: 
Independent History and Research is not a "holocaust denial" organization




Cancel Culture Runs Amok:
The ADL's Defamatory Fantasies about Michael Hoffman
___________________________________________

Classic Catholic Bible back in print
The true 1582 Rheims New Testament—(not the Challoner rewrite): Buy now
__________________________

Hoffman's statement published in the New York Review of Books contra Harvard University's Stephen Greenblatt

___________________________________________

"The Southern Poverty Law Center is the nation's leading anti-American and anti-Christian hate group." -Ann Coulter, syndicated columnist, October 1, 2020

The principal victims of Talmudism and Zionism are Judaic persons themselves— subject to hatred and execution as a "rodef" for radically dissenting, as did Yitzhak Rabin before he was murdered. Michael Hoffman's two books about Judaism exist first and foremost for the liberation of Judaic people. This liberation is a thought crime in the eyes of the Orwellian ADL and SPLC, who pressure social media and Amazon to ban these liberating books as "hate" in order to keep Judaic people in bondage. But where is the hate?

Wikipeda is a "badly biased" source of information

New questions about the Southern Poverty Law Center's irresponsible smears and libel

Southern Poverty Law Center (SPLC) is a hate-mongering scam





We strive to love as Jesus did

Mission Statement

Home | News Bureau | Bookstore | Hoffman's Columns | Essays

More Columns | Donations | Archive
________________________________________________________________________________________


Legal Notice

Revisionist History® is registered with the United States Patent and Trademark Office as the exclusive trademark of
Independent History & Research
Box 849 • Coeur d'Alene • Idaho • 83816 • USA

_________________________

Privacy Notice

Your information is never disclosed to a third party and your information is never shared, sold, traded or given away.
No information is gathered about you by this website. Your privacy is our goal. We take this promise to you seriously. Thank you.
______________

REVISIONISTHISTORY.ORG
Copyright©1996-2022 All Rights Reserved
__________________________________