Michael A. Hoffman II

Investigative Reporter
Browse our catalog of Mr. Hoffman's books, tapes and newsletters
---

Hasidic Khazar* Wanted for the Largest Insurance Company Fraud in American History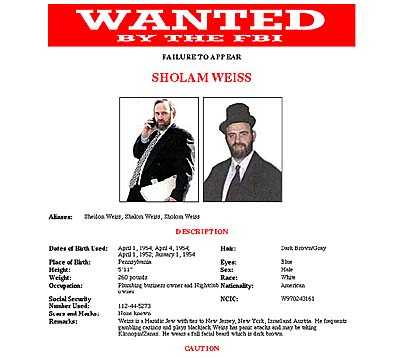 (Weiss was captured Oct. 24, 2000. See item following this article)
Rabbi Sholam Weiss, a criminal mastermind from New York is wanted for racketeering, wire fraud, interstate transportation of stolen property, money laundering, and filing false documents, all in connection with a huge swindle that netted $450 million in the largest insurance company fraud in the history of the United States. The sophistication and scope of the fraud is truly amazing. Weiss looted the National Heritage Life Insurance Company, cheating the Florida-based insurer's mostly elderly policyholders.
Weiss, 46, has jumped bail. The F.B.I.'s Wanted poster offers a $95,000 reward for his capture. Insurance regulators are offering an extra $25,000 reward. The FBI poster describes Weiss as "a Hasidic Jew with ties to New Jersey, New York, Israel and Austria. He frequents gambling casinos and plays blackjack. Weiss has panic attacks and may be taking Klonopin/Zanax..." (end quote)
Rabbi Weiss has plenty of loot with which to enjoy a lavish lifestyle as a fugitive, having absconded with $30 million of the insurance company's money. He is believed to have found safe haven among the Israelis. "Weiss's corruption and dishonesty know no end," stated US Attorney J. K. Hunt, in papers filed in February in Orlando.
THE RABBI WEISS GANG: LAWYERS, BUSINESSMEN AND THE GAMBINO FAMILY
15 business executives and lawyers from Arizona, Texas, Illinois and New York have either pleaded guilty or been convicted in the Weiss fraud ring. Authorities say the fraud began in the early 1990's, when Weiss' gang of businessmen and lawyers hijacked the insurer.
One was Michael D. Blutrich, a lawyer who was an owner of a topless club, Scores, on East 60th Street in Manhattan, which was then controlled by the Gambino crime family. Blutrich served as the lawyer for National Heritage. Using a variation on a check-kiting scheme, Weiss and his cronies bought the insurance company in 1993 with a check and then, once they had taken over, simply lent themselves the money to cover the purchase price.
After befriending Blutrich, Rabbi Weiss became a regular visitor to the strip-joint. During his trial, Rabbi Weiss was asked how he reconciled regularly visiting the topless club with his religious background. "Well, I'm not a hypocrite," he responded, prompting smirks in the courtroom. "I'm not really so religious. But I could tell you, there's a lot of religious people at Scores."
Once he had control, Rabbi Weiss and his associates forced National Heritage into a web of fraud. They bought up junk stocks and mortgages in a series of swindles that cost hundreds of millions of dollars for the insurer. Much of the money -- in cash -- was never accounted for. Millions more ended up in accounts controlled by Weiss.
FOR HIS FIRST OFFENSE, THE USUAL "SPECIAL CONSIDERATION"
In 1994, Rabbi Weiss committed his first offense and was indicted on mail fraud charges connected to his false claim that more than $1 million worth of bathtubs had been damaged in a 1986 fire at his company's warehouse.
He went to trial in Federal District Court in Manhattan and was convicted and sentenced to eight months in prison, but was released to a halfway house, where he asked for a four-day furlough in order to observe the sacred Passover holiday at home in Monsey, New York with his pious wife and loving children. Of course, Federal probation officials readily agreed.
Weiss however, did not fulfill his part of the bargain. Instead he convinced former Reform Party presidential candidate Donald Trump's Atlantic City Hotel and Casino to fly him and a youthful female companion by private jet to the resort, where they stayed in a complimentary, $700-per-night suite and wagered $70,000. The rabbi was initially charged with escape for the four-day getaway, but the charges were -- of course -- dropped by the Federal government.
Weiss acquired his criminal skills in a Talmud school in Boro Park, New York, where Yiddish is the primary language. (He did not learn English until he was an adolescent; he speaks with a heavy accent). In the late 1980s Weiss moved his family to an ultra-orthodox Jewish enclave in Monsey, N.Y. which has been at the center of a Supreme Court case over a public school the community established for Jewish youths only (Justice Antonin Scalia sided with the rabbis). By then a wealthy man, the adulterous Rabbi Weiss agreed to a "get" (Jewish divorce) in which his alienated wife stipulated that he must pay for, among other things, a bar mitzvah and wedding for each of their five children, spending not less than $100,000 for each celebration.
MULTI-MILLIONAIRE ESCAPE RISK WAS ALLOWED TO POST $500,000 PROPERTY BOND AS BAIL
The lawyer who represented Mr. Weiss during his latest trial was Joel Hirschhorn of Florida. "I don't recall that name," he said when a reporter asked him about Rabbi Weiss. Weiss proved to be an obnoxious defendant, who was often heard screaming at his co-conspirators in the courthouse hallways and on his portable telephone. Rabbi Weiss's courtroom bullying is said to have offended the judge, the jury and courthouse officials. Such was the lawyer's anxiety over his client's behavior, that Hirschhorn told the jury that "Sholam Weiss is not on trial for being rich or being rude."
Long before the Sunday in October when he made his mandated phone call to Federal bail officials and then vanished, informed courtroom observers had predicted that the rabbi would certainly flee. (Weiss 's flight caused his ex-wife to forfeit her house in Monsey, which had been put up as security for the $500,000 bond).
Is it not somewhat strange that the Federal government did not know what courtroom obervers knew? Did the Feds strike a secret deal with the Jewish lobby, whereby the government would impose a draconian -- though symbolic -- prison sentence and fine on Rabbi Weiss, to mollify the elderly insurance company stockholders who had been ruined, while Weiss would be allowed to flee to a clandestine refuge in Israeli territory?
At Weiss's Feb. 15, 2000 sentencing (in absentia) on the insurance swindle, Judge Patty Fawsett announced that, given the gravity and repeat nature of his crimes, Weiss would be given a life sentence. Judge Fawsett handed the missing Weiss a massive 845 year term of imprisonment by sentencing him consecutively, rather than concurrently, to each of his 20-year counts. Fawsett also ordered him fined $123 million and to make $125 million in restitution to the policyholders of National Heritage Insurance, which is bankrupt.
Sholam Weiss meanwhile, is presumably enjoying the loot he fleeced from the policyholders, perhaps washing his "panic-attack" medication down with a pricey cocktail at some plush, Israeli strip-club that caters to the "religious."
* I refer to Weiss as a "Khazar" because he, like most of the impostors masquerading as "Jews" nowadays, is of Oghuric Turkic (i.e. Khazar) descent, having no genetic connection with the Israelite Patriarchs Abraham, Isaac and Jacob. There is a rather chillingly prescient Biblical prophecy concerning these phonies, cf. Revelation 2:9. When dealing with Talmudists one is confronted by a veritable juggernaut of fraud. - Michael A. Hoffman II
Weiss Seized in Austria After a Year on the Lam
12 months year after he fled the US, Sholam Weiss, 46, was captured arrested Oct. 24, 2000 in Austria. His arrest ended a search that took the authorities across three continents, and from some of the world's finest hotels to the slums of São Paulo, Brazil. Police said he had had access to as much as half the $450 million he helped steal and used some of it in flight. Officials have begun extradition proceedings to return Mr. Weiss to the United States.
After his escape last year, Weiss seldom stayed long in one place, using prepaid cell phones, mounds of cash and a series of false identities to elude authorities in South America and Europe often by using his Brazilian girlfriend as a front, said officials in the United States and Brazil.
Despite his vigilance, his taste for fine hotels and young women helped officials capture him, they said. Police officials in Brazil, Germany and Austria, working in conjunction with the Federal Bureau of Investigation, were able to find Mr. Weiss by following his 27- year-old Brazilian girlfriend, whose name was not released by the authorities.
She left São Paulo on Oct. 23 bound for Budapest via Frankfurt, said Frank A. Gallagher, who heads the F.B.I. office in Tampa, Fla. But then, in a move that the authorities said she ikely picked up from the cautious Mr. Weiss, she took a train to Vienna instead of going to Budapest.
Weiss met her at the Vienna train station and took her to an apartment in the fashionable Old Town section. The authorities learned later that he had moved into the apartment that day, renting it under the name of his brother-in-law. One investigator said the F.B.I. believed that Mr. Weiss had been in the process of moving from South America to Vienna and was about to establish a new false identity.
When the police in Vienna knocked on his door, however, his reaction helped give him away to a team of investigators who had never seen him and were at that moment unsure of whether they had found the right man.
"When they did grab him, he said, `I want a lawyer,' not `Who are you?' `You got the wrong guy,' `What are you doing?' or whatever, and that really helped," one official said. Mr. Gallagher of the F.B.I. praised the efforts of the Brazilian, German and Austrian police forces who worked together to track Mr. Weiss's girlfriend to Vienna. The Brazilian police official who oversaw the investigation in São Paulo said that he had five investigators working with him on the case full time for several months.
The Brazilian investigators focused on São Paulo's large Jewish community since they felt Mr. Weiss might try to hide there, and on the city's finer hotels where they thought he would seek to maintain his expensive style of life, said the official, Jorge Pontes, a senior official with the Brazilian Federal Police.
They sent investigators disguised as mail carriers to some of the hotels with mail addressed to Mr. Weiss and found the normally discreet concierges happy to tell what little they knew, said Mr. Pontes, who serves as his agency's liaison to Interpol, the international police agency.
They began to find traces of Mr. Weiss, and learned that he had been thrown out of an expensive hotel because of a party he held in his room for himself with 9 or 10 young prostitutes, another official said.
Mr. Pontes, who spoke in a telephone interview yesterday from Japan, where he was attending an Interpol seminar, said his investigators tracked Weiss to another hotel in August, where they were able to obtain his telephone records and found one call that stood out.
Since the call was to one of the city's poorer neighborhoods, "It was strange for us, because it broke a little bit his profile," Mr. Pontes said. It turned out to be the home of his girlfriend's mother, and it was the break that ultimately led them to track her to Vienna and to Mr. Weiss.
While it is unclear how long the extradition process will take, Judy K. Hunt, the assistant United States attorney who prosecuted Mr. Weiss, said his conviction would make the process clear cut procedurally.
There's $250 million that still needs to be recovered," said Fred Marro, a lawyer for bilked insurance firms. "From what we've heard, Sholam controls at least that kind of money, and so we're very excited that he's been rounded up." Joel Hirschhorn, the lawyer who defended Mr. Weiss during his trial and removed himself from the case after Mr. Weiss became a fugitive, reiterated his belief yesterday that the 845-year sentence was "horrific" and that although his former client's appeal was dismissed because of his flight, the sentencing issue can nonetheless be reconsidered.
---
essays on current events / archives / bookstore / news bureau / home
The Campaign for Radical Truth in History
PO Box 849, Coeur d'Alene, Idaho 83816-0849 USA