Independent History & Research Box 849, Coeur d'Alene, Idaho 83816
The Israeli Holocaust Against Arab Children
THE WORLD MUST KNOW!
Researched and curated by Michael Hoffman
Last revision: April 5, 2002
---
Israeli Child Killers: Documentary Proof
---
Murdering Children for Sport
"Ali Murad Abu Shaweesh was 12 when Israeli soldiers shot him in the back. Ali was killed on the same day in June, 2001 that Sharon refused to let the Israeli foreign minister, Shimon Peres, meet with Yasir Arafat, yet his death also went unnoticed by American television news. But not entirely unnoticed, since the Israeli soldiers, who taunted the Palestinian boys over loudspeakers outside the Khan Yunis refugee camp in the Gaza Strip, goading them to come out and throw rocks, did so under the gaze of Chris Hedges, a reporter for the New York Times.
"Children have been shot in other conflicts I have covered--death squads gunned them down in El Salvador and Guatemala, mothers with infants were lined up and massacred in Algeria, and Serb snipers put children in their sights...in Sarajevo--but I have never before watched soldiers entice children like mice into a trap and murder them for sport," Hedges wrote. His account, coolly factual yet full of passionate intensity, was written not for his own paper but for Harper's Magazine, which sent Hedges to Gaza on his vacation." The Nation, March 11, 2002
---
Israelis Kill 13 Year Old Boy

Little Ahmed Ghanem bids a final farewell to the remains of his big brother, Mahmoud, 13, in the village of Sara in the West Bank. Mahmoud was shot in the head March 10, 2002 by Israeli troops, west of Nablus.
---
Israelis Murder Palestinian Family: Mother and three children

The body of Mohammad Abu Kweik, 8, is lifted from the carnage after the Mitsubishi pick-up truck he was travelling in was bombed by Israeli forces in the West Bank Palestinian ghetto of Ramallah, March 4, 2002. Six Palestinian civilians, including the boy's mother, Bushra Kweik, 38, and two sisters, Bara, 14, and Aziza, 16, were killed when Israeli troops bombed their truck after their mother had picked them up from school. The car behind them was also hit. The man the Israelis were attempting to assassinate was not in either vehicle. Two Palestinian children, ages 4 and 16, were killed in the second vehicle.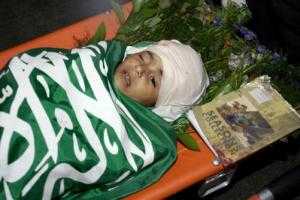 The body of Bara Kweik next to one of her school books
Also on March 4, Israeli troops opened fire on an ambulance in the Jenin refugee camp and killed a doctor, 57 year old Khalil Suleiman. Three medics and a nine year old girl were wounded in the Israeli army attack.
Commenting on the preceding Israeli army "raids" of March 4, Israeli Prime Minister Ariel Sharon stated: "Anyone wishing to conduct negotiations with Palestinians must first hit them hard...We must inflict heavy losses on their side." Source: Los Angeles Times, March 5, 2002
Curator's note: The Kweik family name is also spelled "Quaiek" in some reports
---
Israelis Murder 12 year old boy

The body of Mohammed Houmeduk, 12, shot and killed in cold blood Dec. 18, 2001 in the Khan Younis refugee camp in the Gaza Strip, by Israeli soldiers.
---
Israelis Murder Two Palestinian Boys: a 2 year old and a 13 Year Old
Hebron, Dec. 10, 2001. Editor's note: We have no post-mortem photo of the two year old victim, Burhan Sidir. The Israelis blew him apart. His head was found in the street. His legs were in different places.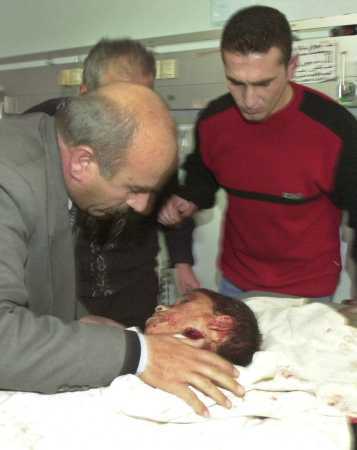 The photo above is of the other victim, 13 year old Shadi Arafi killed by Israeli forces. Two brothers, aged 8 and 10 were also seriously injured in the Dec. 10 Israeli attack.
Zahra Sidir said her son Burhan's third birthday was to be March 27. "Can you think of a crime uglier than this?" she asked. "A targeted person? My two year old son?"
---
On Nov. 22, 2001, five Palestinian school boys ages 7 to 14 were on their way to classes in the Gaza strip when they were killed by a bomb planted by Israeli forces
Palestinian children hold photos of three of the five school boys murdered by the Israelis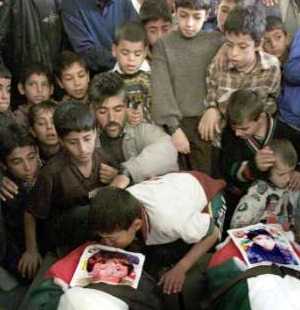 Palestinian children bid farewell to their deceased playmates, killed by a booby-trapped bomb planted on the path to their school by the child-killing Israeli army
Israel "....places explosive charges where children are likely to pass and then claims that only the other side practices terrorism?" --Gideon Levy,"On The Way To School," Ha'aretz, Nov. 26, 2001
Also cf. NY Times, Dec. 11, 2001, p. A12
---

The sister of 13-year-old Mohammed Abu Libda, who was shot to death by Israeli troops, cries during his funeral as her brother's body is brought home in southern Gaza, September 9, 2001.
---
Israelis Murder 11 Year Old Palestinian Boy

The remains of Mohammed Zurub (above). Zionist occupation troops shot dead the 11-year old Palestinian boy in the Gaza ghetto on August, 23, 2001. Haaretz newspaper reported: "Witnesses said that Mohammed Zurub was shot in the heart after throwing stones at IDF (Israeli) troops."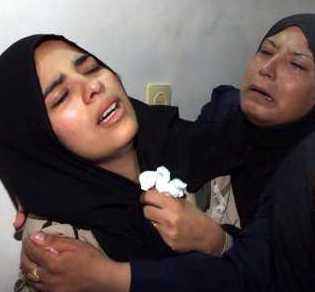 Mohammed Zurub's relatives mourn the 11 year old boy's murder by Zionist occupation troops, Aug. 23, 2001
---
Israelis Murder 14 Year Old Palestinian Boy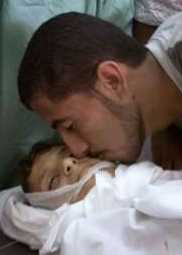 The body of Mohammed Abu Arrar, 14, is caressed by a relative prior to burial. The boy was shot to death in the Gaza ghetto by Israeli soldiers, August 19, 2001.
---
Israelis Murder 8 Year Old Palestinian Girl

Israeli soldiers shot this eight-year-old Palestinian girl, Sabreen Abu Sneineh, in the head, in Hebron, Aug. 12, 2001
---
Israelis Murder Two Palestinian Brothers

Two Palestinian brothers, Bilal Abu Khader, 8, and Ashraf Abu Khader, 5, were killed in the West Bank town of Nablus, July 31, 2001 by Israeli helicopter gunships, which rocketed the center of a Palestinian population center in the middle of the day. Six other Palestinians were killed during the Jewish-sponsored assassinations.
---
Israeli Settlers Murder Three Month Old Palestinian Baby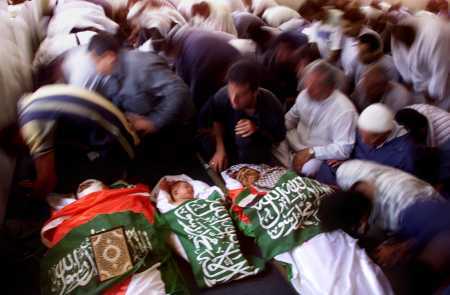 The body of murdered 3-month-old Palestinian infant Diya Tmaizi, center, is flanked by murdered Palestinian civilians Mohammed Hilmy Tmaizi, 20, right, and Mohammed Salameh Tmaizi, 22, left, in the West Bank village of Idna, near Hebron. The Palestinian baby and the other civilians were shot and killed, and at least four other Palestinian civilians were injured late Thursday, July 19, 2001, near Idna. According to Israeli radio, a Jewish "settler" group took responsibility for the murders.
---
Israeli Army Opens Fire on Children's Playground

Ibrahim Al-Mugrabi weeps over his 11-year-old son, Khalil Ibrahim, who was slain in the Rafah section of the Gaza ghetto after the Israeli army strafed the boy's playground with machine gun fire.
Khalil Ibrahim al-Mugrabi, 11, was shot in the head and killed July 7, 2001 near Rafah in the Gaza ghetto. Two other Arab children playing with him were wounded, one seriously, after the Israeli army sprayed machine gun fire at a crowd of Arab children.
The children were gunned down by Israeli soldiers from a Jewish guard tower as they were playing. Doctors said the dead Palestinian boy was shot in the head and that a 10-year-old boy was seriously wounded with a gun shot to the stomach. A third Palestinian boy, age 12, was injured less seriously.
Mohammed Abu-Shikadem, 29, who was nearby when the shootings took place, said that a group of some 30 children were playing near the refugee camp when he heard a burst of machine gun fire from the Israeli guard tower. ``Two of the children fell in front of my eyes,'' Abu-Shikadem said.

---
Israelis Kill Baby Girl and School-Teacher, Wound Ten other Children in Refugee Camp
KHAN YUNIS REFUGEE CAMP, Palestine-- May 7, 2001-- Israeli troops shelled homes in this Arab refugee camp today and fired large-caliber machine guns, killing a 4-month-old baby girl and wounding 24 civilians. Doctors said 10 Palestinian children were among the injured.
One Israeli cannon shell hit the shack of the Hijo family in the refugee camp, instantly killing 4-month-old Iman Hijo, with shrapnel tearing a hole into the infant's back. The girl's 19-year-old mother, as well as three brothers and sisters, were wounded, including 18-month-old Mahmoud Hijo, was in intensive care at Nasser Hospital with shrapnel wounds, doctors said.
The slain infant's uncle, Wael Hijo, carried the girl's body from the hospital's autopsy room to the X-ray department. In the emergency room, Iman's 7-year-old aunt, Dunya, sat on a bed with a dazed look on her face, her frilly white-and-green dress pulled up above scraped and bandaged legs. ``They killed the baby,'' Dunya said, then burst into tears.
Israeli troops also fired on the refugee camp's Khaldieh School in the West Bank, killing a Palestinian school-teacher.
---
Palestinian boy, 12, killed in Khan Yunis
A 12-year old Palestinian, Muhind Nizar Muharb, was killed April 23 in Khan Yunis refugee camp, in the Gaza Strip, when Israeli soldiers opened fire on Palestinian demonstrators at the funeral of a slain Palestinian. At least ten other Palestinians were injured. (Source: Ha'aretz, April 24, 2001)
---
Israeli army targets Palestinian children in grenade attack on playground

Palestinian child, wounded in Israeli army grenade attack on his schoolyard, is carried to an ambulance
"In the Old City of Hebron, (March 15, 2001), Israeli soldiers lobbed a stun grenade into a schoolyard during an elementary students' demonstration. The students were throwing stones at Israeli cars, Israeli officials said. Six students suffered moderate or light wounds, including burns, broken bones and blisters, Palestinian officials said. The Israelis said five Palestinian children had experienced 'light impact injuries from the grenade.'
"The army sees the removal of children from the circle of violence as extremely important," an Israeli army statement said. The army will "continue to act against anyone trying to compromise the security of Israeli citizens," it said.
Source: N.Y. Times, March 16, 2001, p. A-10
"Six Palestinian children suffered burns on Thursday (March 15, 2001) when Israeli soldiers threw a stun grenade into a West Bank schoolyard in new violence after an Israeli pledge to ease its blockade on Palestinians. Doctors in Hebron said three of the six children sustained burns to the head, hands and back and the other three were suffering from blisters and shock.
"Why did they throw the grenade into the yard? This is only a provocation,' said teacher Mohammed Hawaismah as parents carried children out of the school and into ambulances.
Source: Reuters, March 15, 2001
---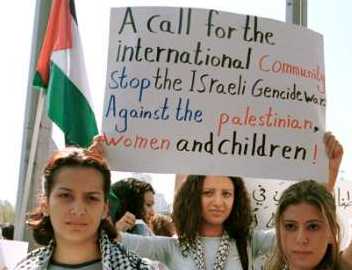 ---
More documentation from our holocaust museum:
Israeli Child Murder: Documentary Photos
---
israeli holocaust against arabs / archives / news / bookstore
Copyright©1996-2002 by Michael Hoffman
Please send donations to:
Independent History & Research Box 849, Coeur d'Alene, Idaho 83816
Donate online by VISA or Mastercard
(If donating online, be sure to "select quantity")