The Campaign for Radical Truth in History P.O. Box 849, Coeur d'Alene, Idaho 83816
Visit our Bookstore
---
Our Protest in downtown Coeur d'Alene, Idaho of the Jewish Holocaust Against Palestinians
On Oct. 28, 2000 Michael A. Hoffman II, director of Idaho's Center for Revisionist Studies, led ten associates in a demonstration to protest the Jewish Holocaust Against the Palestinian People in Coeur d'Alene, Idaho. Hoffman cast the hypocrisy of the ersatz "human rights activists" and media back at them, in the face of the ongoing holocaust in Palestine and the aid and comfort the media and human rights phonies give to the Jewish murderers and Jewish supremacist doctrines and personalities, chief among which is the exclusive "Holocaust" cult itself.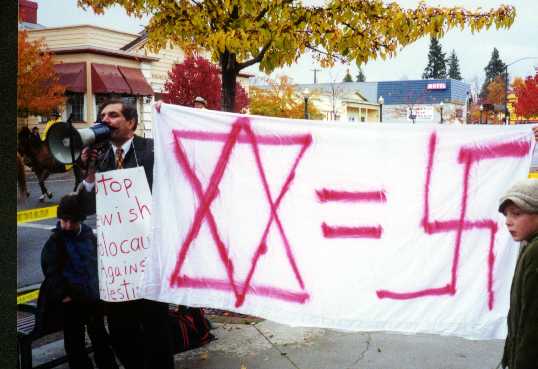 The image the local TV networks dared not show
Hoffman (at left with bullhorn) calls for a stop to the Jewish holocaust against Palestinians at a protest in Coeur d'Alene, Idaho, Oct. 28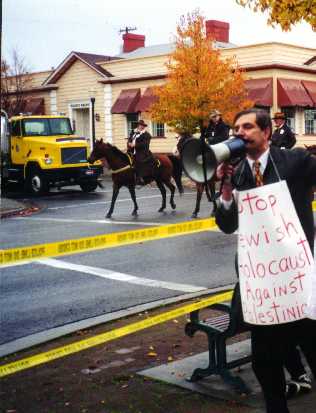 Hoffman speaks as mounted police patrol in the background. Downtown Coeur d'Alene, Idaho, Oct. 28, 2000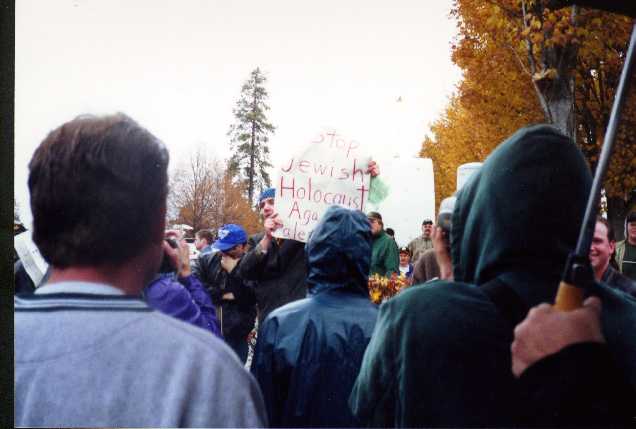 Hoffman holds aloft a sign reading "Stop the Jewish Holocaust Against Palestinians" as he addresses a crowd estimated at 500 near Independence Point, Coeur d'Alene, Idaho, Oct. 28, 2000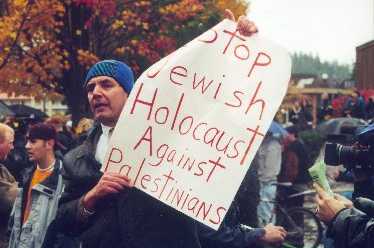 Hoffman's supporters distributed hundreds of our green flyers to the crowd (see hand holding our flyer in the lower right corner of the photo above).
Thank you Coeur d'Alene, Idaho for a warm reception. We hope we have helped spare Palestinian victims in the process.
---
israeli holocaust against palestinians / archives / bookstore / news bureau
Copyright 2000 The Campaign for Radical Truth in History
P.O. Box 849, Coeur d'Alene, Idaho 83816 USA