The Campaign for Radical Truth in History P.O. Box 849, Coeur d'Alene, Idaho 83816
Visit our Bookstore
---
The Israeli Holocaust Against the Palestinians Sept. - Oct. 2000
---
Photo Gallery:
Israeli Army Shoots Muslim Worshippers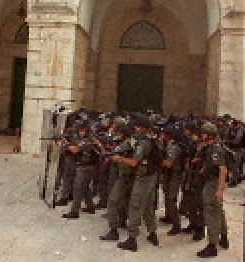 Part of the contingent of 1,000 combat troops who, along with Israeli General Ariel Sharon, invaded the grounds of the third holiest shrine in Islam, igniting protests throughout the Muslim world and rebellion in occupied Palestine.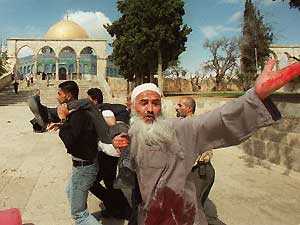 Muslim worshippers shot by Israeli soldiers on the grounds of Al-Aqsa Mosque, the third holiest shrine of Islam, on Sept. 28, 2000 in the aftermath of the incursion by Israeli Gen. Ariel Sharon and 1,000 Israeli troops.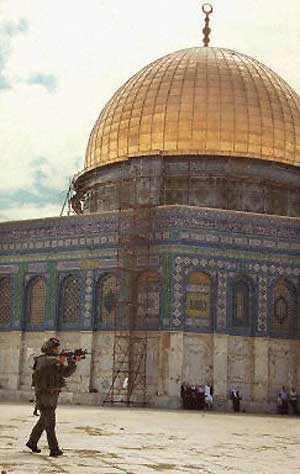 An Israeli soldier, one of the 1,000 combat escorts for Ariel Sharon, fires his machine gun at Muslim worshippers on the grounds of Al Aqsa mosque, Sept. 28, 2000.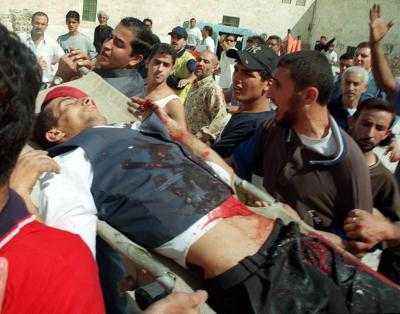 Muslim worshipper shot by Israeli soldiers at Al-Aqsa Mosque, Sept. 28, 2000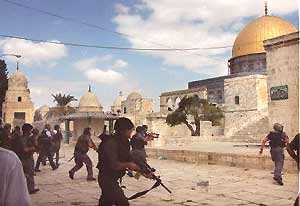 Sharon's troops rampage at Al Aqsa Mosque, Sept. 28, 2000, shooting unarmed worshippers with impunity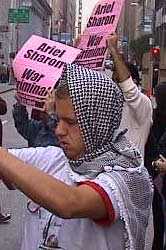 Ariel Sharon is regarded as an Arab-hating racist and is known by the sobriquet "the Butcher of Beirut" for the slaughter he perpetrated in Lebanon in the summer of 1982, as a commander of the Israeli invasion.
---
Partial list of worshippers murdered Sept. 28, 2000 at the mosque:
Bilal Ali Afana , 26.
Mohammed Hussein Farah (no age available).
Yahya Farraj, 17.
Nizar Ashuweyki (no age available).
Jihad Mahmoud Al Aloul, 23.
Many more were wounded
---
israeli army fires on medical personnel and ambulances
israeli child murder documented
israeli holocaust against palestinians / archives / bookstore / news bureau
Copyright 2000 The Campaign for Radical Truth in History
P.O. Box 849, Coeur d'Alene, Idaho 83816 USA