The Campaign for Radical Truth in History P.O. Box 849, Coeur d'Alene, Idaho 83816
Visit our Bookstore
---
The Israeli Holocaust Against the Palestinians Sept. - Oct. 2000
---
Savage Barbarity Unreported by the Establishment Media:
Israeli Army Fires on Medical Personnel and Ambulances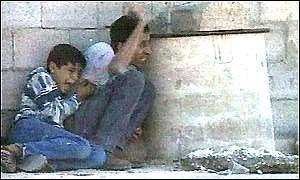 The Islamic equivalent of the American Red Cross, the Palestinian Red Crescent Society (PRCS) offers emergency medical services in occupied Palestine. Emergency medical technician (EMT) Bassam Balbeisi was shot and killed as he tried to rescue the boy, Mohammed Al Doura, and the boy's father, shown under fire in the picture above. (The Israelis killed the boy on Sept. 30, 2000. The father was shot and wounded).
EMT Bassam Balbeisi
On Sept. 30, Bassam, 45, attempted to get his clearly-marked ambulance to the boy and father, but was shot in the chest and killed by Israeli soldiers. Mr. Balbeisi is from Gaza city and leaves behind a wife and 13 children.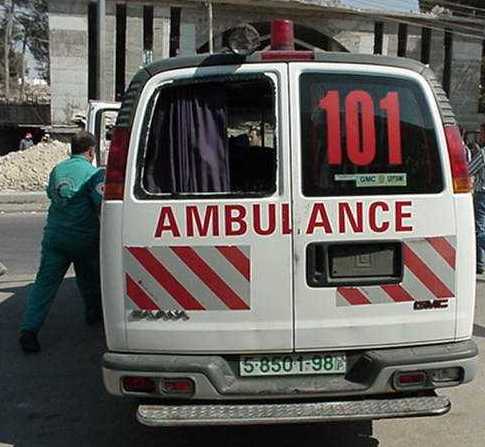 Clearly marked Palestinian ambulance like the one driven by Bassam Balbeisi
---
Press Release from the Palestine Red Crescent Society (PRCS)
Oct 18 2000
Emergency Medical Services (EMS) of the Red Crescent
To-date 24 of our ambulances have been hit by live ammunition by Israelis in 42 separate attacks. 27 Emergency Medical Technicians have been injured, and one killed. PRCS has logged 47 incidents of denial of access to ambulances at roadblocks. EMS continues to utilize vehicles now in desperate need of repair due to lack of replacements and personnel. The 8 ambulances received from the Norwegian Red Cross are already working in the field.
Total Attacks on Ambulances by Israelis: 42
Total Ambulances Damaged (some vehicles attacked more than once): 24
Total EMT Personnel Injured: 27
EMT Killed: 1
Violations & Restrictions of Ambulance Access: 47
---
Oct 14, 2000

Press Release

Dangerous Medical Emergency Conditions & Systematic Denial of Access to Ambulances

The Palestinian villages of Kifl Harris, Salfit and Bidyia (Ramallah area) are in desperate need of medical supplies, but our crew have been prevented from reaching those areas. Additionally, PRCS ambulances have been prevented repeatedly from entry and exit into Ramallah/Al-Bireh, Nablus, Qalqalia and Tulkarem. Blood transport from Ramallah to Hebron was twice denied access yesterday by the Israelis and the vehicles turned back at Ram checkpoint North of Jerusalem.

In spite of the obvious urgency of the situation, all diplomatic and humanitarian channels have failed to convince the Israeli Army to grant permission to PRCS ambulances to reach those in need. This systematic policy of preventing the most basic emergency care to the wounded and those in need will kill people and cause unnecessary suffering.

Israeli roadblocks and concrete barricades have sealed Palestinian homes and villages. Our ambulances cannot reach hundreds of thousands of civilians. Our crews attempt many routes and back roads, at considerable risk to their own safety, often to be turned back by Israeli soldiers when only a few yards away from the sick and wounded.

Our mission as a humanitarian organization is and will always be the provision of the best possible care for those in need of medical attention regardless of race or religion. We will spare no effort to get to those who need us. We do not and should not be required to coordinate every single ambulance call with Israeli military command, who have been hindering or denying access in most cases.

To date our paramedical personnel have been injured and killed in the line of duty. Israeli settlers and soldiers alike are shooting at our ambulances, and systematically humiliating and intimidating our staff.

Let the international community bear witness to this most basic violation of human rights and international humanitarian law. Our humanitarian mission is being undermined by an Israeli policy of revenge against an entire civilian population.

Younis Al-Khatib, President, Red Crescent
---
Oct 2, 2000
Emergency Medical Personnel & Ambulances Under Fire
It is regrettable that the Israeli army seems to be targeting our ambulances and emergency medical personnel and volunteers. To date, 14 ambulances have been directly hit by bullets... One Emergency medical technician was fatally shot in the chest as he attempted to rescue a 12 year old boy caught in the hail of Israeli bullets. 6 rescuers have been injured while inside the ambulances in which Israeli soldiers fired through the windshields at these vehicles.
Our field hospital in Gaza was fired upon twice from a helicopter gunship on Oct 1 despite the clear display of the Red Crescent Emblem. Medical staff in our clinic in North of the West Bank (Kifl Harris) were severely beaten by Jewish settlers and the clinic vandalized.
PRCS will continue to provide its humanitarian services to those in need. We continue to adhere to International Humanitarian Law and the Geneva Convention. We demand that the Israeli army respect the international emblem of the Red Crescent and does not hinder the work and rescue efforts of our personnel.
Younis Al-Khatib, President, Red Crescent
---
Hoffman's comment:
The establishment media that ceaselessly beat a shrill drum about a 55 year old "Nazi Holocaust" have had little or nothing to report about this barbaric savagery on the part of the Israeli army and Jewish "settlers" occurring in the year 2000. The corruption of the American media is complete. They applauded the 1999 bombing by NATO of a Serbian TV news station and the bombing of Lebanese and Palestinian radio stations, because they said these were outlets of "state propaganda." But what are the NY Times, the LA Times, the Washington Post, CBS, NBC, ABC and CNN if not agents of the state propaganda of the Israelis?
Let us never forget the Israeli crimes against the Palestinians. The American media dearly want us to forget or to never know in the first place. Therefore it is certain they recognize the threat to their agenda of Jewish supremacy and excusing Israeli atrocities and state terror which the memory of the victims of the Jews represents. Therefore, always remember Bassam Balbeisi, who should be a hero to all ambulance personnel everywhere, who gave his life attempting to rescue a little boy from Israeli killers. Let us always remember the ambulances and the field hospitals of the Red Crescent shot to bits by the "Holy Israelis" in a war crime that boggles the mind. The "Holocaust" besotted American media are silent because the victims here are "only" Arabs. Had they been Jewish medics and ambulances under attack, the world would know, and be reminded every hour on the hour, in vigils, documentaries, government proclamations and schoolroom curricula; a sickening and infuriating double-standard!
Michael A. Hoffman II
---
israeli holocaust against palestinians / archives / bookstore / news bureau
Copyright (c) 2000 The Campaign for Radical Truth in History
P.O. Box 849, Coeur d'Alene, Idaho 83816 USA