Indepdent History & Research, Box 849, Coeur d'Alene, Idaho 83816
The Israeli Holocaust Against the Palestinians
Researched and curated by Michael Hoffman
---
Photo Gallery: Israeli Child Murder Documented
---
The body of murder victim Obei Darraj, 9, being laid to rest March 3, 2001
9-year-old Palestinian boy shot to death in his home by Israeli Army
The boy, Obei Darraj, age nine, was killed on Friday March 2, 2001 in his family's home, in El Bireh. The little boy was watching his father paint the wall of a brother's bedroom when gunfire crashed through its window, and hit the child in the chest.The Israeli army took credit for the killing, saying: " The gunfire came in retaliation to Palestinian shots aimed at the Psagot settlement" (Ha'aretz, March 4, 2001).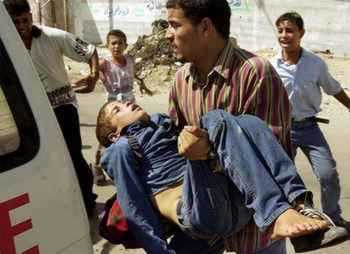 12 year old Sami Fathi Abu Jazar shot to death by Israeli soldiers in Rafah, 2000

Palestinian boy shot in the head by Israeli soldiers, October, 2000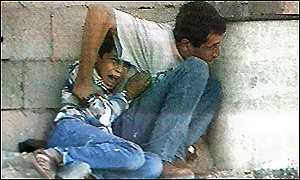 As his father attempts to shield him, Israelis shoot at 12 year old Mohammed Al Doura. He was killed shortly after this photo was taken.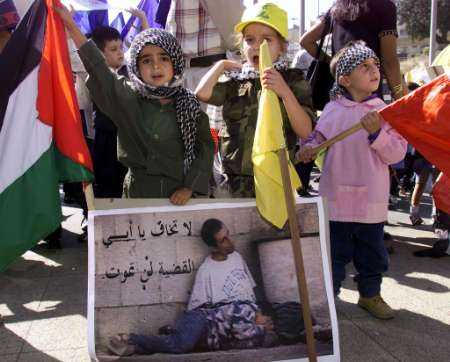 Palestinian children mourn the death of 12 year old Mohammed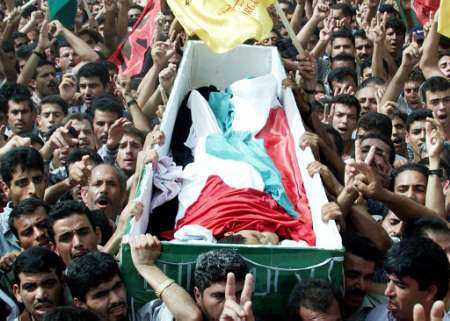 Funeral for 13 year old Muhammad Yousef Abu Assi, killed at Netzarim Junction by Israeli soldiers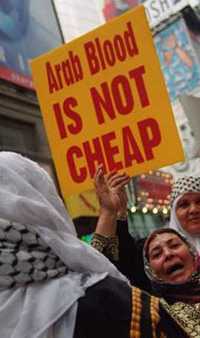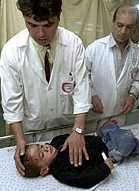 A Palestinian infant wounded by an Israeli rocket in Gaza city Nov. 20, 2000 undergoes medical treatment administered by Red Crescent medics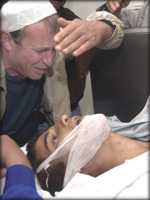 17 year old Yehia Abu-Shamala, shot to death by Israelis, Nov. 2000, is mourned by his uncle in a hospital morgue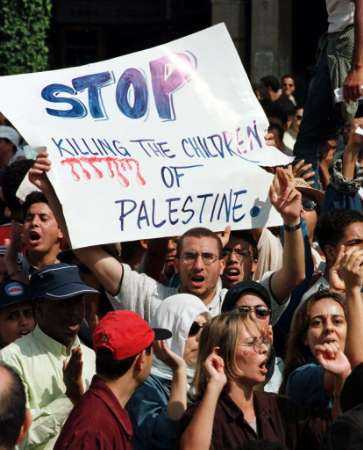 The world perpetually mourns the death of one Jewish child at the hands of the Nazis, Anne Frank. She is commemorated in several books, eight separate movies and documentaries (including one now in production by Steven Spielberg) and countless shrines and museums. Will the thousands of Arab children who have been slaughtered by the Israelis since 1948 be remembered by the West with a single memorial, or will the memory of the atrocities against these "un-Chosen" people be extinguished? Let this webpage stand in testimony until such time as the conscience of the West can be awakened from its Jewish supremacist slumber, and commemorate all the victims of all the holocausts, including those perpetrated by Jews.
Michael Hoffman, October 2000
---
Suppressed data from our online holocaust museum:
Israeli Child Killers: More Documented Proof
Israeli Demolition of Arab Homes
---
israeli holocaust against palestinians / archives / bookstore / news bureau
Support this virtual holocaust museum. Send donations to
P.O. Box 849, Coeur d'Alene, Idaho 83816 USA
Copyright 2000-2001 by Michael Hoffman