The Campaign for Radical Truth in History
http://www.hoffman-info.com P.O. Box 849, Coeur d'Alene, Idaho 83816

Visit Hoffman's Online Bookstore
---
Israelis Terror Bomb Civilians in Lebanon Again
by Michael A. Hoffman II
Coming in the wake of the 1982 Israeli holocaust against Beirut, during which the Israeli air force killed tens of thousands of cilivians after deliberately targeting apartment blocks, schools and hospitals on order of Menchaem Begin and Ariel Sharon, and after the 1996 Israeli "Operation Grapes of Wrath" in which the Israelis bombed Lebanon's electrical generating capability and massacred a hundred civilians at Qana, now on June 25, 1999 Israeli "terror from the air" policies were once again implemented.
The Israelis' 10-hour aerial bombing of June 25 killed eight civilians and wounded 62 and left much of Lebanon's road and power networks in tatters, dealing a severe blow to the struggling country's economic revival.
Waves of Israeli warplanes terrorized Beirut with all-night air raids and pulverized selected infrastructure targets in bombings that ranged as far as the northern Metn power station of Bsalim, and continued until dawn.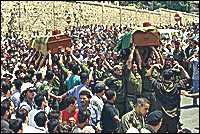 Coffins of Lebanese civilians murdered by Israeli terror bombs, June 25, 1999, are carried during a funeral procession
Beirut was plunged into darkness after the Israeli bombs reduced its main electricity grid in Jamhour to a pile of blackened rubble in three attacks, followed by the equally devastating bombings of the Jiyye, Zrarieh and Awali bridges and the Cellis cellular telephone company's main relay station, also in Jiyye.
At daybreak, it became apparent that the damage to the electricity network in Beirut was, by all official estimates, even more devastating than Israel's 1996 "Grapes of Wrath" bombings.
Jameeleh Haddad, 57, spoke with tears in her eyes: "We're already suffering before the bombing, so how do you expect us to feel after the bombing?" she asked. "I woke up startled four times last night and my heart almost stopped."
Israeli Chief-of-Staff Shaul Mofaz warned that if Lebanon's Hizbullah resistance fighters resumed their cross-border Katyusha attacks, "Israeli bombers are armed and the pilots are ready to strike again."
Hizbullah, the Arab army fighting in south Lebanon to force Israeli troops out of their country, rejected the threats. Sayyed Hassan Nasrallah, Hizbullah's leader, said: "The Zionists should understand that to avoid attacks on northern Palestine they should not attack Lebanese civilians and the civilian infrastructure in Lebanon and should adhere to the April, 1996 Understanding. Israel's resorting to bombings and air raids on the infrastructure and civilians will not help in protecting Jewish settlers in occupied northern Palestine."
Nasrallah cited a key fact which has been deliberately censored from the scanty coverage accorded to the latest Israeli war crime in Lebanon by western media such as CNN and the New York Times: "The two Zionists who perished in Kiryat Shmona died after the Israeli bombing of the Jamhour power plant and not before," Nasrallah said.
The Hizbullah commander added that the aim behind Israeli aggression was not to protect Israeli civilians but to give morale to the defeated and humiliated Israeli army, which on June 1 saw the disintegration of the army of its mercenary "SLA" Maronite allies in Jezzine, who, at the behest of their Jewish masters, have committed numerous heinous war crimes in Lebanon, such as the shelling of the Lebanese port city of Sidon on Aug. 18, 1997, which killed at least six civilians and injured more than three dozen.
Many people in Beirut cited another reason for Israel's June 25 terror bombings, saying they were intended to eliminate Lebanon as Israel's rival in the lucrative tourist trade. Khalil Omar, 39, stated that Israel views Lebanon as one of its main competitors in the tourism industry in the Middle East and it is, therefore, in Israel's interest to discourage tourism in Lebanon. "The Israelis see that we can attract international events like the Miss Europe pageant...and they don't like it," he said.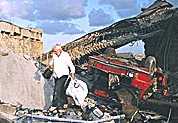 A Lebanese civilian walks amid twisted wreckage on the Zrarieh bridge, which was bombed by the Israelis, June 25, 1999
Nader Saab, 43, of Hamra, thinks that the goal of the Israeli attack was to cripple the Lebanese economy. "The Israelis don't want to see Lebanese reconstruction go forward," Saab said. "They want to see us pay billions of dollars to rebuild our bridges and restore our electricity and never have the chance to move forward."
Riad Zahr, 29, a Lebanese-American who runs a pharmacy in Michigan and is in Beirut visiting relatives, believes that despite the brutality of Israeli terrorism, the Hizbullah should continue fighting. "...the resistance has to go on doing what it's doing," Zahr said. "America fought for its independence from the British just as Hizbullah is fighting against the Israeli occupation of Lebanon."
---
israeli holocaust against palestinians / the talmud & judaism / archives / news bureau / home
The Virtual Museum of the Israeli Holocaust Against the Palestinians
Copyright©1999 by Michael A. Hoffman II
This website is made possible through financial donations. Please send yours today to:
Independent History & Research, Box 849, Coeur d'Alene, Idaho 83816