The Campaign for Radical Truth in History http://www.hoffman-info.com P.O. Box 849, Coeur d'Alene, Idaho 83816

Visit our Bookstore
The Israeli Holocaust Against the Palestinians
---

Palestinian Writer Freed from Israeli Concentration Camp after 5 and 1/2 Years Imprisonment
by Michael A. Hoffman II
WEST BANK, Occupied Palestine-- As his five and one half year imprisonment without trial became an increasing, public relations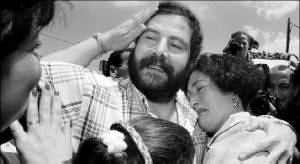 embarrassment for the Israeli government, Palestinian writer Ahmed Qatamesh, 46 -- the author of four books -- was released April 15, 1998 from a Zionist concentration camp.
The Palestinian author was arrested Sept. 1, 1992. The Jewish authorities had tarred him with the "terrorist" label, the convenient stigma they put on anyone who dares to oppose their rule in occupied Palestine. Yet the Israelis never furnished any proof that Qatamesh had participated in any violent or "terrorist" actions. He sole "crime" was that he had used his writings as his weapon to detail the crimes of the occupiers.
"My colleagues and I in administrative detention do not practice violence," Qatamesh said. "If we did we would have been put on trial."
The man whose spirit and will the Israelis could not break stated that he would use his pen to "...go on inciting and writing against the occupation."
Under the law of the Israeli state, dehumanized Palestinians can be imprisoned indefinitely, without trial.
More than 300 Palestinian civilians continue to rot in Jewish concentration camps under this Israeli "law." No proof of any accusation against them needs to be offered. It is simply enough that they are Palestinians. Their race signifies that they can be incarcerated perpetually by the Israelis.
Upon his release, Ahmed embraced his young daughter Haneen and his wife, Suha.
---
israeli holocaust against palestinians / the talmud & judaism / archives / news bureau / home