The Israeli Holocaust Against the Palestinian People
Curated by Michael Hoffman
Assad Said al-Mansour, assistant curator
---
Israeli Savages Murder Hospital Administrator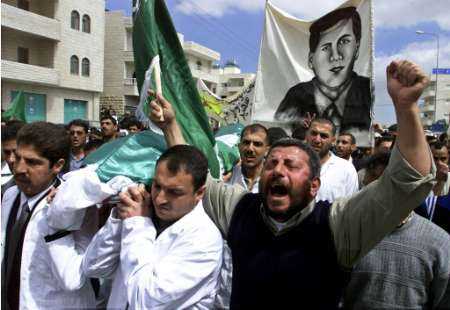 Yamama Hospital personnel carry the body of Palestinian Dr. Ahmed Numan Uthman, 38, the hospital's administrator, who was killed in the Palestinian ghetto of Al-Khader, by Israeli troops, March, 2002. Other mourners hoist his portrait aloft (in the background) during the funeral procession.
---
Two Palestinian medics die in Israeli attack on Ambulance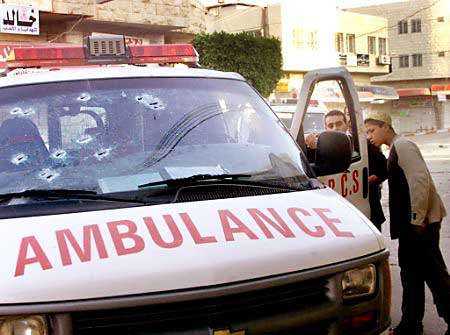 Palestinians youths examine blood-spattered Palestinian ambulance in which two Arab medics were killed by Israeli army troops in the West Bank ghetto of Tulkarm, March 8, 2002. The Red Cross protested this killing of Palestinian ambulance workers by Israeli forces.
---
On March 4, 2002, Israeli troops opened fire on an ambulance in the Jenin refugee camp and killed a doctor, 57 year old Khalil Suleiman. Three medics and a nine year old girl were wounded in the Israeli army attack.
---
Israeli Army Attacks Doctors and Ambulances in Palestine Sept. 28, 1996
Israeli troops on Saturday, Sept. 28, 1996 blocked ambulances and vehicles in Nablus transporting doctors and medicines from entering northern Palestinian towns in the West Bank, Palestinian officials said.
"All the hospitals and clinics in the northern West Bank need medicines and medical supplies," the Palestinian health ministry said in a statement. "They are not getting through because of the Israeli soldiers." The ministry said that ambulances and vehicles were blocked at the Jalazun checkpoint north of Ramallah, where it charged Israeli troops of beating one driver and forcing the Palestinians to put the medical supplies on the road.
Two international medical relief agencies, Doctors of the World and Medicins du Monde-Suisse, accused the Israeli army of attacking and harassing its medical personnel. The groups said that doctor Mustafa Barghuthi, president of an affiliated group, the Union of Palestinian Medical Relief Committees, and his assistant were wounded by Zionist troops during clashes in Ramallah on Friday. "We are shocked that humanitarian and medical staff may be targets of Israeli snipers," Doctors of the World said in a statement.
---
More documentation: Israeli Army Fires on Medical Personnel and Ambulances
---
Copyright©1996-2002 by Michael Hoffman