The Campaign for Radical Truth in History http://www.hoffman-info.com P.O. Box 849, Coeur d'Alene, Idaho 83816
Visit our Bookstore
Jewish Activist from Russia Distributes Anti-Muslim Hate Literature
Here is more information on a Jewish hate crime. You can be certain that this case will not receive any permanent billing in any of the compilations of "hate crimes" maintained by the government or so-called "human rights watchdog" groups. Such compilations are rigged and created with the preconceived intent to "prove" how ugly and hateful Gentiles and Arabs are and how persecuted certain professional "victim classes" like the Israelis are. By axiom, no Jewish person, can commit a hate crime. So the cat is out of the bag in terms of how fraudulent these "watchdog" groups really are and it is our job to be certain that the documented incidents of Jewish hate crimes are disseminated far and wide and kept on public record.
Anti-Muslim Hate Flyers Distributed by Russian Jewish Immigrant in Hebron
Supporters of the Islamic Movement staged demonstrations in the Galilee and the Negev June 29 to protest against leaflets posted in Hebron depicting the founder of the Islamic religion, the Prophet Mohammed, as a pig writing the Koran, the Muslim's sacred scripture.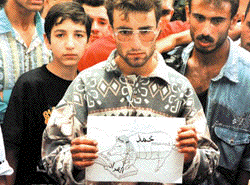 Palestinian shows reporters one of the anti-Muslim hate flyers distributed by a Russian-Jewess
More demonstrations are to take place today, June 30, and a delegation led by Sheikh Abdallah Nimr Darweesh, is due to visit Hebron.
Ibrahim Sarsur, a leader of the Islamic Movement, said that if Israeli police allow, the Palestinians plan to hold a demonstration outside the Prime Minister's Office in Jerusalem, following the visit to Hebron.
"We...expect the country's religious leaders, such as Rabbi Ovadia Yosef and the country's chief rabbis, as well as the political echelon from all sides to denounce this blasphemy," said Sarsur.
"There was an outcry when Jewish Orthodox haredim (hasidim) burned an Israeli flag. We expect Israelis generally to also denounce these posters and those behind them. There is nothing more sacred to Moslems than the Prophet Mohammed and the Koran. These are the holiest symbols of our faith," said Sarsur, who is also head of the Kafr Kassem local council.
Sarsur warned that such hate crimes by "extremists calling themselves Jews" could ignite the whole region and not just inflame passions in the territories, if they were not stopped immediately and harsh measures taken against the perpetrators.
Meanwhile, 25-year-old Tatiana Sosskind, a Jewish immigrant from Russia, arrested Saturday night on suspicion of posting the leaflets in Hebron, had her remand extended by five days by Jerusalem Magistrate's Court. Sosskind is a follower of the late Rabbi Meir Kahane who declared that hating Arabs is a command of the Talmud (cf. CBS 60 Minutes, "Kahane").
The court was told that Sosskind had posted the hate-literature on the houses of local Palestinian residents. The Israeli police at first refused to arrest her, and gave the excuse that because it was close to the Jewish Shabbat (sabbath), it was decided not to arrest her but to wait until after Shabbat, Insp. Yitzhak Shilo testified in court.
But on Saturday afternoon, Shilo said, Sosskind threw a stone at a Palestinian's car and damaged it, and she was subsequently arrested.
But other sources testified that by then, the Israeli media had gotten a hold of the leaflet story and the police were forced to arrest the Russian-Jewess.
In asking for the remand, Shilo told Judge Shulamit Dotan that there is fear that Sosskind will not appear for future court hearings. Sosskind is a notorious anti-Muslim bigot and Inspector Shilo cited a previous case in 1994, when Sosskind committed a hate crime against the Palestinians, was subsequently arrested and sentenced to serve 60 hours of community service work, but "disappeared."
Sosskind, a Jerusalem resident who immigrated to occupied Palestine from the former Soviet Union six years ago, told reporters that she had depicted Mohammed as a pig because, "This is my response to the behavior of Arabs in Hebron. If their religion allows them to act like this, then he (Mohammed) is really a pig."
Her lawyer, Baruch Ben-Yosef, said that Sosskind was not arrested after she posted the hate-leaflets because it was clear the leaflets were satirical and not serious. He said she was detained only after media reports exaggerated the incident. Sosskind did not speak during the hearing.
[Sources: Private e-mail from an informant at Beir Zeit University in Hebron; "Jerusalem Post," June 30, 1997, Associated Press, June 30, 1997].
---
israeli holocaust against the palestinians / the talmud & judaism / archives / news bureau / bookstore / home