RevisionistHistory.org
archives / bookstore / news / home
---
Permanent Memorial to the Israeli Holocaust Against the Palestinians
In New York: A Monument to the Deir Yassin Massacre
Significance: There are very few memorials to "the other holocaust," the Israeli holocaust against the Palestinians, anywhere on planet earth. Finger-pointing and apportioning blame for this enormous oversight is outside the scope of this page. Let us instead give thanks for the fact that one group of Americans, allied with international colleagues, supporters and survivors of the Israeli war crime at Deir Yassin, created this humble, but stark and effective, permanent monument, so that the memory of the victims will live on.
How to Get There
From Geneva, New York: Take Interstate 90 or New York Route 14 to Geneva. Travel south on Route 14 (South Main Street) until South Main Street descends down a steep hill. Put your left turn signal on now. Travel down the hill about 200 yards into the hollow. Do not ascend. (The entrance to Glenwood Cemetery will be on your right). Turn left at One Mile Point, at the bottom of the hollow. Park on the dirt road. Now walk south along the railroad tracks. The monument is a few hundred feet from One Mile Point, on the shore of Seneca Lake.
From southern New York: Take Route 14 North toward the city of Geneva. Drive past "Belhurst Castle." The Geneva-on-the-Lake resort is about one mile north. As soon as you can see the Geneva-on-the-Lake resort, put on your right turn signal. Drive past the resort and descend into the hollow. Turn right at One Mile Point at the bottom of the hollow. Proceed as above.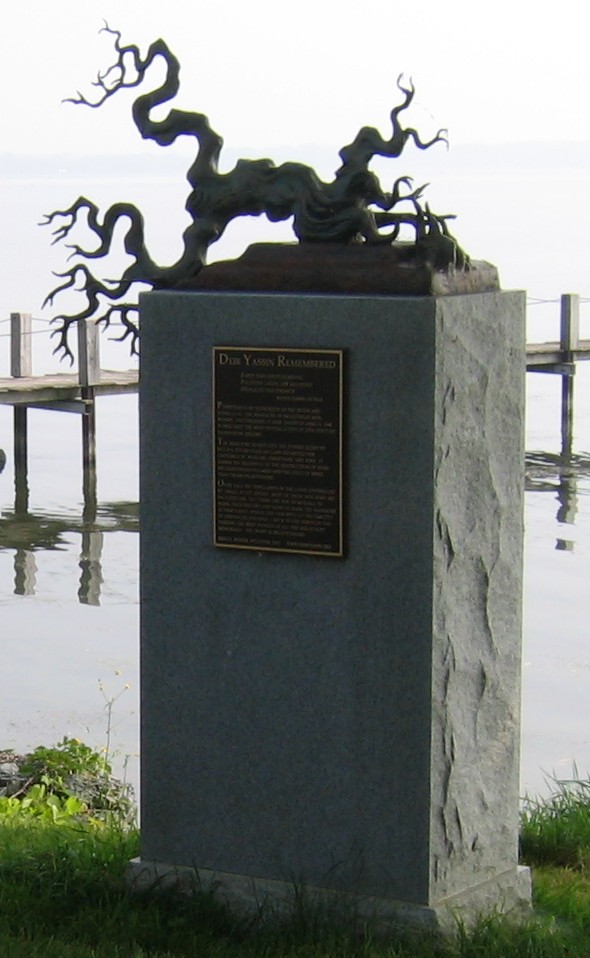 Sculpture at the top depicts an uprooted olive tree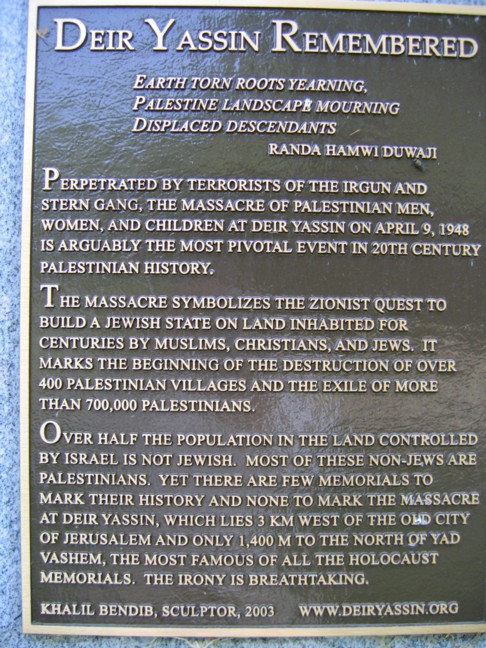 Photos by Michael A. Hoffman Copyright © 2005
Note: neither this web page nor Michael A. Hoffman have any connection to the "Deir Yassin Remembered" organization. This web page is NOT endorsed by "Deir Yassin Remembered." This page and its contents are solely the responsibility of revisionisthistory.org
---
The Israeli Holocaust Against the Palestinians

A book by Michael A. Hoffman and Moshe Lieberman
---
RevisionistHistory.org