elcome to the "Campaign for Radical Truth in History", the preeminent source for truly independent research. We think it's a sad sign of the times - when the truth is radical. But, there you have it.

At the Campaign for Radical Truth you'll find uncompromising investigative reporting that peers into topics you simply cannot find discussed in today's controlled media.

We are the cutting edge of legitimate, studious conspiracy research. We guarantee that you will be amazed by our extraordinarily well researched and documented exposes of some of the most astonishing stories of our time.

We'll startle you by ripping the shroud from some of the most incredible mysteries of history. You'll join us in uncovering the bizarre, the arcane, the occult, and some of history's greatest plots.


Reparations for Slaves?
Pressure is mounting to wring reparations from the United States Government for the sufferings of slaves. Strangely, no one talks about reparations for America's first slaves - ethnic Europeans - though it's doubtful that you'll read about the experiences of white slaves in the controlled media or see their horrible stories captured as a "Movie of the Week."



We're not talking about indentured servants either, as evil as that was. We're talking about tiny children ripped from their mothers' arms and sold into slavery "until death." You won't see that on "20/20" or "60 Minutes".

Read Hoffman's "They Were White and They Were Slaves" and discover:
How the British government was "legally" able to take children from their parents.
"Whippings (of White slaves) were commonplace...as were iron collars and chains."
Many other facts about white slaves they forgot to tell you in history class.
Find this and other groundbreaking works at our store.

Michael A. Hoffman II was educated at the State University of New York at Oswego. He is a former reporter for the New York bureau of the Associated Press and is the author of several books, including Secret Societies and Psychological Warfare and The Great Holocaust Trial.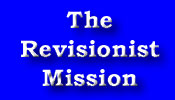 "It is always the inclination of man to deny reality, to tidy things up, to wrap perception in the pretty party ribbon of partisanship and prejudice. It is the fate of the revisionist historian to forever wander the frontiers beyond party and dogma, cognizant of the original sin of his own subjectivity, but always struggling to see more, and give an account of what he sees with an utter disregard for the consequences of so fugitive a vocation.

"Even at this juncture, information is not enough. For the key to getting as close to the truth as we can depends not on obtaining the most information, but rather, in honing our ability to detect fraud. Information is power, but it is not wisdom.

"Revisionist history consists in the art of discerning fraud and the courage to publicly strip illusion, even when the whole world is clamoring violently for it. "

Michael A. Hoffman II